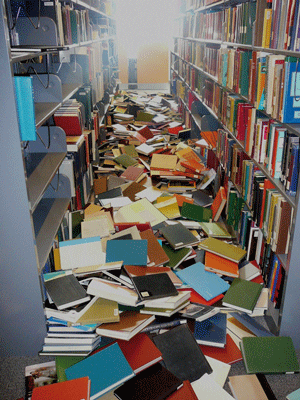 "Books are earthquake proof" begins the 2008
Fallen Books
project by
Melissa Dubbin and Aaron S. Davidson.
The project inquires after the status of knowledge in one of the most tenuous of human institutions: the library. The book gathers photographs take in a number of libraries worldwide moments after the onset of a quake. The images are assembled chronologically, and are colour coded against the Mercalli scale - a variant of the Richter which takes into account damage to humans and buildings rather than energy at epicentre.
Both an archive of desolation and an active participant in this precarious system of knowledge in the earthly world (as a book dedicated to fallen books must be), the book also has a fragile, material beauty. Our organisation systems, our dewey decimals, our coloured covers become a sea of materials; illegible in their usual terms.
Of course it is obvious why this project has been in my mind lately; images of similar fallen books after the Christchuch quakes resonated with me, and as for Japan, well, the organisation of their knowledge systems is the last of their worries. Books may be earthquake proof, but a bucket of water let alone a tsunami would return them to an almost pre-elemential state.
Images of the Libraries in Canterbury post-quake.